Matilda is a freelance theatre-maker. She is the co-founder and an Artistic Director at Twelve Angry, where she champions the voices of women in theatre both onstage and off.
Matilda has directed, written, produced, managed publicity, and designed set and costume for a variety of theatre productions. in 2013 Matilda was Publicity Manager for Four Letter Word Theatre. She has also worked as a freelance director for The University of Melbourne's residential colleges.
You can find details of some of her favourite shows below, including pictures and reviews.
Bachelorette (2016)
director, co-producer for Twelve Angry
[Lady] Macbeth (2016)
publicity manager, costume designer for twelve angry
The Taming of The Shrew (2015)
Dramaturg/consulting director For MUSC
Alcopops and Robbers(2014)
Director, Set Designer for Trinity College
Devoted: A New Musical (2014)
Music by Lucy O'Brien and Book by Matilda Dixon-Smith
What started as a one-night-only event for Melbourne's 2014 Midsumma Festival, held at The Tote in Collingwood, became a cult summer hit. Devoted: A New Musical is a queer musical satire after Warren Casey and Jim Jacobs' 1971 Grease. With new music and lyrics by Lucy O'Brien and a new book by Matilda Dixon-Smith, Devoted played to sold-out audiences at The Tote, The Workers Club in Fitzroy and Northcote Social Club through January and February 2014 .
Visit the website for more information, or read this exclusive cast and crew interview with Sharona Lin from Pop Culture-y.
Listen to a song from the musical: Composer Lucy O'Brien performs 'Worse Things'.
BLASTED (2013)
Producer for FLW Theatre
by Sarah Kane. The Guild Theatre, 11 - 14 September 2013.
The Wild Party (2013)
Publicity Manager for Four Letter Word Theatre
by John Michael LaChiusa. The Main Stage at Revolt Artspace, 31 July - 3 August 2013. View the website here.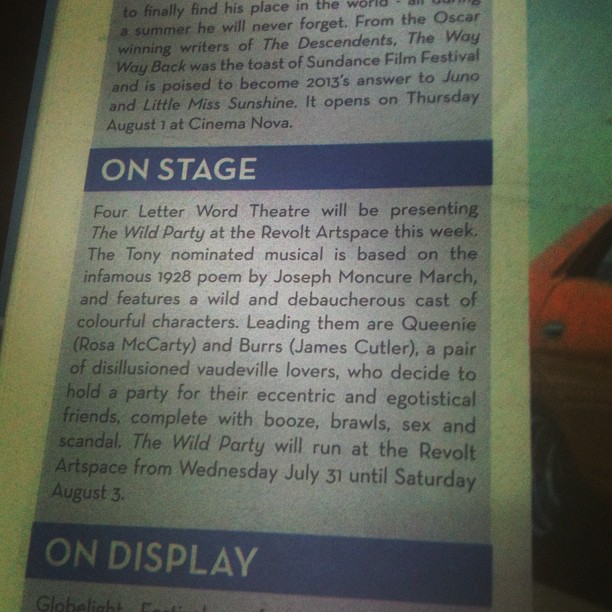 Equus (2013)
Costume Designer for Four Letter Word Theatre
by Peter Shaffer. Revolt Loading Dock, 10 - 19 January 2013.
The History Boys (2012)
Assistant Director for FLW Theatre
by Alan Bennett. Guild Theatre, 1 - 11 August 2012.
Disney's Beauty and the Beast (2010)
Director for Ormond College Drama Company
Music by Alan Menken, lyrics by Howard Ashman and Tim Rice, and book by Linda Woolverton. Union Theatre, 5 - 7 August 2010.